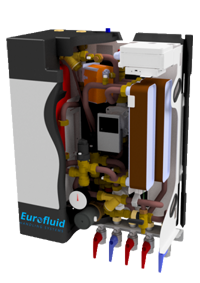 HEAT INTERFACE UNITS
EuroFluid  NEW HIU product range: DATA UNIT DIGI UNIT ETHER UNIT UTILITY MASTER UNIT SLIM UNIT
HIUs (heat interface units) provide domestic hot water and central heating in properties connected to a district heating system using a central boiler.
For some years, there has been an increasing use of centralised boiler plants in property developments. The advantages of removing gas boilers from properties and making use of high efficiency centralised boiler plants are numerous.
Advancing technologies such as Combined Heat and Power (CHP), Biomass, Extract Air Heat Pumps, Waste Incineration, and Solar, that are mostly uneconomical to employ in individual properties, can be utilised and combined to generate heat to numerous properties. Heat Interface Units, or HIUs for simplicity, are fitted into each property and take the heat from the central plant, and use this to provide central heating and hot water to taps. It is easiest to think of an HIU as a combination boiler, running off heat from pipes rather than a gas supply. Occupants are charged for units of heat, rather than units of gas, and typically come with heat meters to measure energy use.
Please click our website link below for more info.