HEATING & CHW
Reflex N
Reflex N are the world's most frequently used small vessels. The fixed diaphragm has proved itself millions of times over and has shown itself to be extremely wear-resistant, thanks to its evenly-balanced loading.
Reflex N diaphragm expansion vessel for closed heating and cooling systems,
built acc. to EN 13831.
Approval acc. to EU Pressure Equipment Directive 97/23/EC.
foot construction from 35 ltr and above
durable external powder coated finish
non-replaceable diaphragm
Reflex N Vessel capacities available from 8 – 1000 Litre
Ex Stock Eurofluid
POTABLE WATER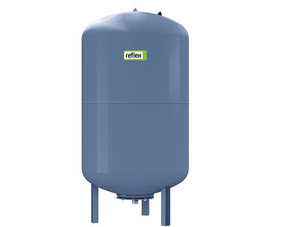 REFLEX Refix DE
The basis of a low-cost solution for potable water, water heating & hydro-pneumatic well applications. Water does not flow through this vessel. The DE range is fitted with a bladder, which can be replaced from 50 liters on, and is ideal for use in water systems with higher corrosion resistance requirements, as suitable for brine circuits in heat pump systems.
WRAS approved bladder expansion vessel for mains water supply systems
Pressure Equipment Directive 97/23/EC replaceable bladder according to DIN EN 13831
all vessel parts in contact with water are coated against corrosion
durable external powder coating finish
vessels stand vertical with profile steel construction on feet
vessels from dia.1000 ltr with pressure gauge integrated in the gas compartment.
Refix DE Vessel Capacities available from 2 to 5000 Litre
Ex Stock Eurofluid
THROUGH FLOW ANTI LEGIONELLA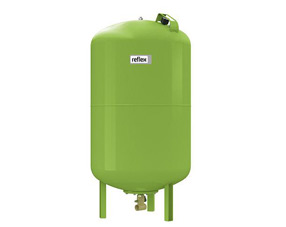 REFLEX Refix DD Flow Through
Refix DD is the potable water specialist for the home and is ideal for using with water heaters to save water. Water flows through the vessel, it has a stainless steel connection and thereby meets the ultra-exacting hygiene requirements of DIN 1988. The T-piece required is supplied with the unit and the Flowjet flowthrough valve is optionally available.
Built and tested according to DIN 4807 part 5, EN 13831 respectively
DIN-DVGW (reg. no. NW 9481AT2534). Approval according to EU Directive 97/23/EC for pressure equipment.
internal circulation by means of high-flow, star-shaped connector and incl. Rp 3/4 T piece
water-bearing parts corrosion resistant
vessel connection made of stainless steel
bladder acc. to KTW-C, W 270
outside/inside coating, inside according to KTW-A
can be mounted with a reflex 'flowjet' flow-through fitting
Type 'DD 33′ with wall fixing straps WRAS approval on vessel DD8 to DD33 10 bar and DD8 25 bar