FLEXIBLE BELLOWS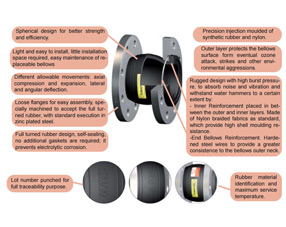 TORAFLEX® Rubber Joints consist of a fl exible main shell made of synthetic rubber with inner reinforcements to provide consistency, with pipe connections by means of loose or integral fl anges, or threaded unions. They can be used either to absorb vibration and noise caused by equipment such as pumps or compressors, or to balance thermal movements in pipe systems due to temperature changes. They also help at installation to balance slight misalignments or length deviations, and reduce the effects caused by water hammers to a certain extent. They are widely used in HVAC, water treatments, process industry, ships, etc. The equipment is designed, manufactured and tested following procedures and high quality standards dictated by the EN ISO 9001. Each batch number is punched on the rubber for full traceability. They are excluded from the Pressure Equipment Directive PED 97/23/CE, according to its article 1.3-15. The label in the product states rubber material and maximum temperature. For complete technical description (dimensions, connections, pressure-temperature rating, materials, etc.) please consult our Data Sheets
INERTIA POURING FRAMES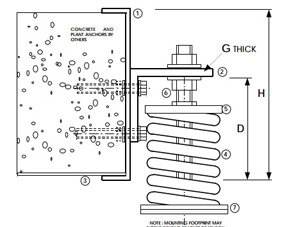 We have always manufactured our own spring mounts and inertia pouring frames in the UK, rather than being restricted to licensed or imported equipment. This gives us the flexibility to offer a wide, multi-purpose standard range, but also to design and manufacture isolators for special applications.
From stock, we can supply mounts and hangers suitable for point loads up to 2.5 tonnes, and with working deflections of up to 50mm (both with 50% overload capacity). Anything outside these ranges can be quickly designed with our in-house software, and manufactured to order.
All isolators are galvanised after manufacture, making them suitable for external use in normal environments. For corrosive atmospheres, isolators can be manufactured from stainless steel.
PUMPS SPARES – ALL LEADING BRANDS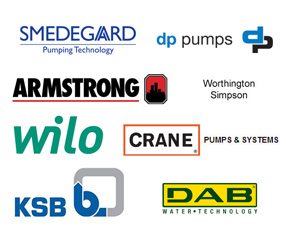 Pump Repairs
Economic repair of equipment is essential in keeping costs down. Our engineers can strip and detail the work needed to allow clients to make an informed decision to repair or replace failed pumps. Where repair is the way forward, we offer a complete service from assessment of the equipment, safe removal from the system, stripping down and replacement or refurbishment of all components. All repaired units are fully mechanically and electrically tested prior to return to the client.
We service, maintain and repair all major pump brands…..