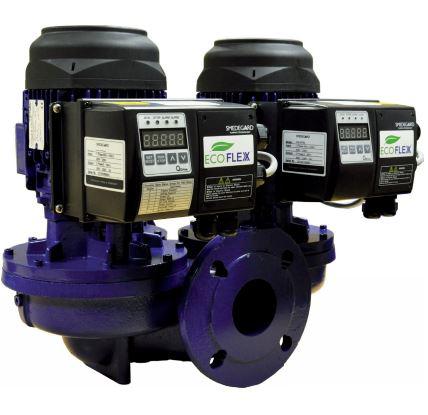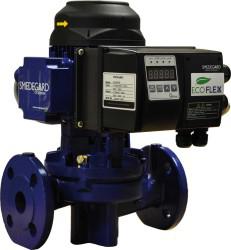 The Omega ECOFlexx is the marriage of our tried and tested Omega fixed speed pump and the extremely reliable and efficient FlexxDrive variable speed inverter drive.
All single and twin pumps, from 0.12 up to 22kW, can be supplied as Omega ECOFlexx with integral inverters to give automatic adjustment via a signal from pressure transducers or another external source.
All models up to 2.2kW are available with either single phase or three phase inverters, above this all are three phase.
Multiple control options are standard as is RS485 and MODBUS.
Above 22kW the inverter drive Omega pump packages are Omega ECOFlexx plus utilising wall mounted inverters. Further details for this range is available from Eurofluid's technical sales office.
The FlexxDrive is normally supplied fitted to the pump, but is also suitable, without modification, for wall mounting. The non reliance on the pump motor fan for the cooling of the FlexxDrive reduces the risk of overheating whilst operating at low speeds, and has the added benefit of not reducing the flow of air to the pump motor thereby ensuring longevity of both the pump and the inverter drive.
DOWNLOAD PDF

 Smedegaard_Omega_ECOFlexx_Inverter_Control_Pumps_low_res
Contact Us