DATA – Independent Testing Results
For too long we have lived with a complete lack of accountability for the use of badly designed or old fashioned HIUs. Until now there has been no standards against which to check an HIUs performance, and the importance of certain features to the efficiency of an entire scheme has been ignored.
As a result, we live with a plethora of poorly performing district heating schemes that are so inefficient they cost the end user significantly more.
This is set to change, with the first set of HIU tests now completed using a new UK standard derived from the Swedish HIU standards, but ammended to better suit our own climate. A significant portion of the well known manufacturers have undergone independent testing and the results have now been published.
The chart below compares the results from the HIUs that went through testing, and is accurate as of January 2017.
The height represents the return temperature over ambient 20C.
The width represents the volume of primary water used each year.
The area represents the energy returning to plant (i.e not used) each year.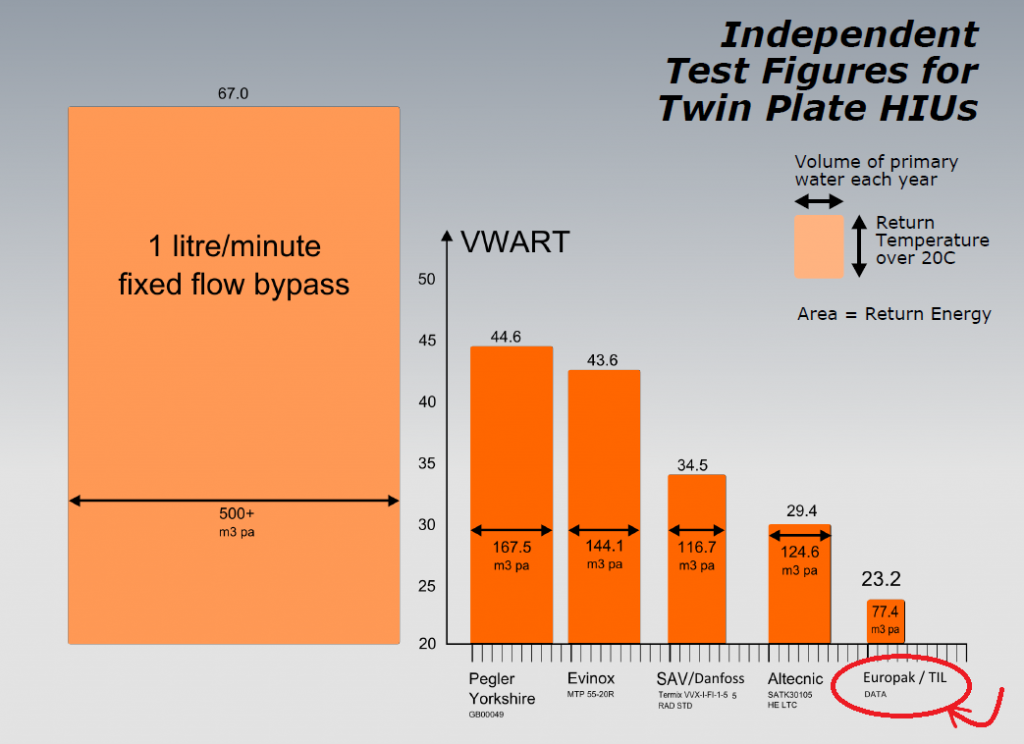 The Electronic Heat Interface Unit DATA :
-Description:
The DATA HIU is suitable for wall hanging in a home or apartment and is designed to provide arange of hot water and central heating outputs using two plate heat exchangers. Within the casing are all controls required for a typical property connected to a district network, including sealed central heating system components with a number of additional options such as hammer arrester, DP valve, and DHW recirculation pump.
The unit can be connected to either a radiator or underfloor heating system and is set-up during commissioning to operate at the desired temperatures.
The DATA is encased in an attractive EPP moulded compartmentalised casing with an optional decorative steel cladding panel. Heat losses are less than 50W, allowing the unit to remain hot for rapid DHW response with minimal
drain on the primary supply.
-Features:
Fully electronic solution with PC connectivity for setup and commissioning
Calibrated sensors for fast DHW temperature control District return temperature control
Anti-Legionella Cycle
Eco / Comfort DHW modes for continuous or intelligent pre-heat
Anti-fraud sealing kit for heat meter and casing
Compact design – 490mm (W) x 640mm (H) x 271mm (D)
Fully insulated compartmentalised casing
Ability to connect and communicate with billing systems
iHIU Intelligent control options to allow networked
DHW priority
DOWNLOAD PDF