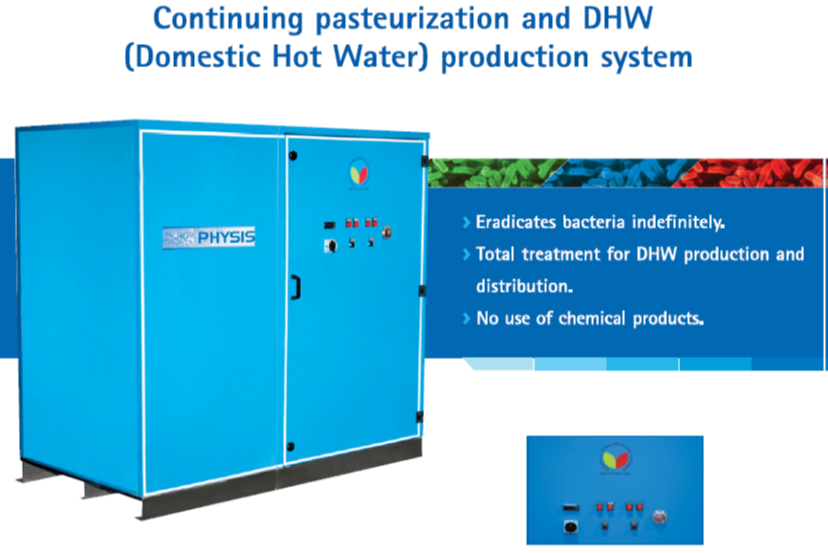 EUROPAK PASTORMASTER – DHW Generation & Legionella Eradiciation
There was a system available that could guarantee 100% eradication of legionella & bacteria from hot water systems…………….
Europak Pastormaster……..Unique.
DHW Production & Legionella Eradication System Guaranteed
Anti Legionella system for continuous pasteurisation and production of hot sanitary water.
We know that traditional processes and methods of controlling legionella offer very limited effectiveness, such as purging, chlorine dioxide, copper-silver ionisation and ozone/ultraviolet treatments that are not capable of removing the bacteria from within the biofilm, so we have taken in to consideration the National Guidelines for the Control of Legionellosis in Ireland, 2009, the L-8 and the HTM 04-01 guidelines and helped develop the new Europak Pastormaster hot water generation & legionella eradication unit for the Irish market.
The Europak Pastormaster is the ONLY  unit on the market that GUARANTEES  total eradication of both legionellosis and bacteria.
It incorporates hot water generation along with legionella & bacteria eradication at source and is available in different sizes depending on the project.
This innovative new hot water generation system has been specifically engineered for healthcare buildings that could contain vulnerable people, such as hospitals and nursing homes.
It is a proven innovation as there are over 500 units installed in Europe and an independent case study can be found on our website link below.
Full working model now available for demonstration, please contact Eurofluid on 01-4600353 or stephen@euro-fluid.com
Please click our website link below for more info.
http://euro-fluid.com/pastormaster/
Eurofluid Handling Systems Ltd are a family owned business for over 25 years, specialising in manufacturing & distributing heating and hot water products to the Building Services industry, suppling boilers, water heaters, heat exchangers, pumps, water booster sets, calorifiers, buffer tanks, pressurisation and expansion vessels.