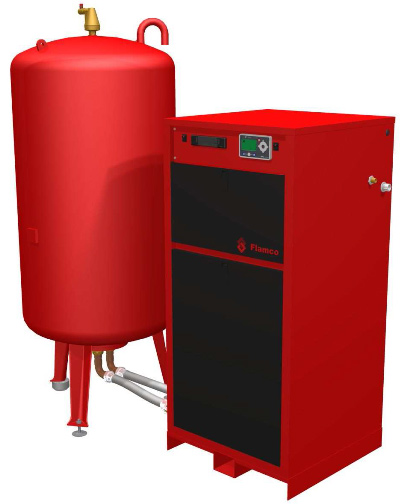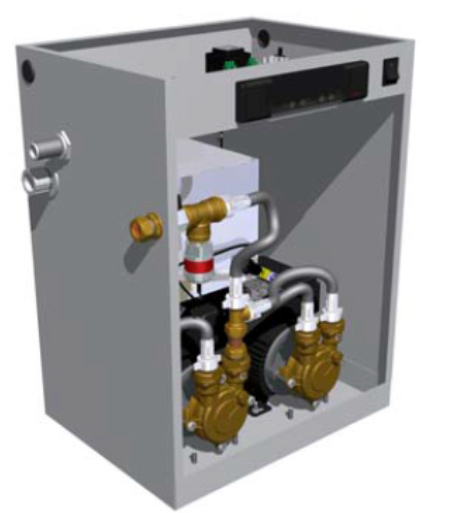 EUROPAK Flexfiller Midi Digital – Wall Hung
125 D – Single Pump 2.8 Bar max pressure
225 D – Twin Pump 2.8 Bar max pressure
250 D – Twin Pump, 5.0 Bar max pressure
280 D – Twin Pump, 8.0 Bar max pressure
Features:
System quick-fill mode
Wall Mounted
Password protection for parameter entry
Pressure settings in 0.1 bar increments
Service reminder option (12 months).
Pump pulse option (2 second pulse if inactive for 60 days)
Flood protection options
Event logging for pump start, individual pump run hours counter, electrical interruption and common alarm.
Volt free contacts for common fault, high pressure, low pressure, pump fault, pressure transducer fault.
Description:
Compact, totally enclosed digital pressurisation unit with electronic pressure transducer and user-friendly microprocessor for use on sealed systems in order to provide a minimum system pressure requirement.
Installation:
The Midi pressurisation unit should be connected to the system at the same point as the expansion vessel to provide a neutral pressure reading.
EUROPAK Flamcomat – Pressureless Expansion Vessels
Description:
The Europak Flamcomat balanced pressure expansion equipment is sized according to the total system volume and the boiler / chiller load. The Flamcomat vessel is 80% efficient irrespective of the static height of the system. It is the ideal solution for large installations or tall installation
where standard diaphragm expansion equipment is limited.
The Europak Flamcomat is a unique product that combines a balanced pressure system with an effective pressure step de-aerator function and an integral top up arrangement utilising an AB airgap.
The real-time LCD display shows the status of the mechanical
components while monitoring the vessel contents and the system pressure.
A common alarm volt free contact is included within the Europak Flamcomat control unit for remote indication of a fault. Remote analogue indication of the vessel contents and system pressure are possible as option extras, as is a date chip for exact system logging.
Each pump module also contains a top up unit for connection directly to a mains water supply, the top up unit has the following functionality:
On/Off switch, with indicator neon
WRAS approved break tank
WRAS approved float valve
Constructed as type AB air gap with weir overflow, fluid category 5
Electric pump, 230v 50Hz single phase
Electronic pressure transducer
Normally closed, common fault, volt free boiler interlock
Normally open high pressure, low pressure, transducer health and pump health volt free contacts
System logging
Easy setup and commissioning
The Europak Flamcomat is designed to accurately balance system pressure to within (typically) 0.2 bar(g).
Expansion Relief
As the system fluid heats up it expands, during expansion the system pressure attempts to rise. The Europak Flamcomat control equipment senses the pressure rise and opens the connection (solenoid) valve to the expansion vessel. The expanding fluid flows into the vessel, through an orifice (to restrict flow rates) and a system pressure rise is prevented.
Contraction Compensation
As the system cools down, the system fluid contracts, during contraction the system pressure attempts to drop. The Europak Flamcomat control equipment senses the pressure drop and energises the pumps. The fluid is actively from the vessel back into the system, and a system pressure drop is prevented.
DOWNLOAD PDF

 Flexfiller_Digital_Midi_125D

 Flexfiller_Digital_Midi_225D

Flexfiller_Digital_Midi_250D

 Flamcomat_Datasheet_2013